Crewed luxury yacht charter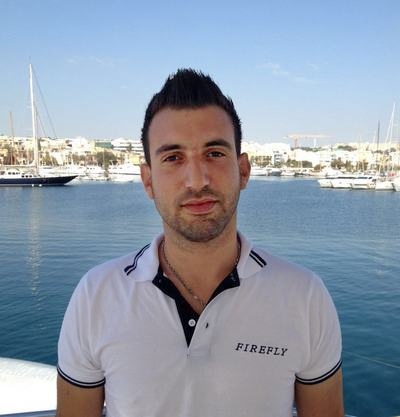 Captain: Mr. Anthony Borg
Anthony was born a true Maltese, and into a family of passionate sailors. He discovered his taste for yachting at the age of 16 and followed his Uncle's path who has been a yacht captain for a long time.
Anthony started his career in yachting as an assistant engineer with Sunseeker Malta in 2007 when he stepped up to become an engineer at Boatcare Trading Ltd. until the year 2009. Having found his way afloat within the superyacht industry, Anthony then joined the successful Sunseeker team again as an engineer onboard yachts.
He is a very ambitious person and always wanted to become a Captain which he did so in 2010 onboard Sunseeker MY ANTONIA, based in Malta from which he cruised extensively along with Sicily and mainland Italy. Combining Maltese charm and a professional attitude, Anthony is the perfect match for a charter yacht such as Firefly where he was appointed Captain in early 2016.Fluent in English, Italian and his native Maltese, Anthony will always walk the extra mile to make sure the guests are having a perfect time on board.
* * *
We offer to rent a yacht Firefly - a luxury boat with a qualified crew. We understand that every client wants to be sure not only in the comfort of his journey, but also in his safety. That's why the staff was selected long and carefully. As a result, we have found the ideal candidate for the position of captain and for several years have been convinced of his professionalism. You are offered a charter on a luxury yacht with the head of the crewed - captain Anthony Borg.
We guarantee vacations on a yacht with a professional crewed
The hereditary sailor has the appropriate education and extensive experience. He has been working on the Firefly boat since 2016. The captain provides comfort for clients and tries to show them more interesting. Anthony speaks English, Italian and Maltese. We are sure that you will make friends and have a great time together.
The Firefly is designed for 8 guests. There are 4 luxury cabins and recreation areas. The main salon is favorite place guests. The unique design of the room in the beach-house style contributes to the formation of a special atmosphere. You can enjoy ocean views and pleasant evenings in a relaxing setting. On the boat are conditions for a quiet rest and a fun time. Choose the format that suits you and get the most out of the journey. Rental of a yacht with reliable crewed will allow you fully surrender to relaxation and forget about all the worries.
Find out the payment for renting a yacht for a week
A price-list of yachts is submitted in a particular section of the site. The cost of the cruise in July, August and during the holidays is slightly more expensive. See the tariffs and call the specified phone numbers to agree on the details.